I have recently purchased this black kaftan from Asda it was only £6 and it has a gold trim around the sleeves and bottom. It is made out of jersey material with a elasticated drawcord waistband. It comes in different sizes and three different colours, coral, pink and black.
They didn't have many sizes nor colours left, I did want it in a coral but they only had extra small left over. I ended up getting the black they only had a medium, it is slightly too big I could of done with a small. However I did really like it and so I just brought it in a medium.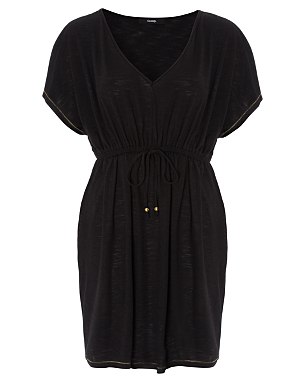 As it is made out of jersey material it isn't as see through as one that would be made out of thinner material. I tried it on with some leggings and you couldn't see my bra through the material. So this means that I can wear it on a day to day basis instead of at the beach.
I do find it hard sometimes to find tops or dresses that suit my shape. I have an hour glass figure, so I am quite curvy. I do find that sometimes when tops or dresses have a waist band it doesn't hit me on my waist, it sometimes hits me higher because I am blessed in the boob department.
I did find with this kaftan that it fitted me quite well, although the kaftan waist band is slightly higher than my actual waist it isn't as bad as some other clothes that I have tried on. It isn't very tight either so it will be perfect for the summer for when I just want to wear something light and flowy with some leggings. I did take the cord tie off the kaftan so I could belt it with another belt which will draw me in even more.