I recently went to Boots to get a couple of things:
I firstly brought the Bleach London Reincarnation Mask for £6. My mom actually got a small bottle of this in the Bleach toner she recently used as I put a lighter dye on her hair and she needed something to tone it as it was quite orangey (the toner is pretty amazing!) As for the mask, I have been using it with my normal conditioner mixing the two together then putting it all over my hair and leaving it for about an hour. It says to leave it for 10-20 minutes but I prefer leaving it for longer. Once dry my hair feels so soft and smooth like it hasn't been bleached at all! Even my ends which were really dry went like this which I have never been able to get so soft before! It is such a good product I highly recommend it!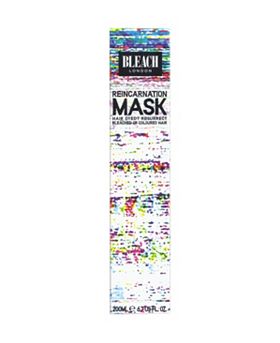 The concealer I had been using was from Collection I had been using the lasting perfection one but I had run out in the creme concealer and had been using the stick. I decided to go back to the creme concealer as I found that it was a lot better as my skin had become dry it was a lot easier to put on. I got the concealer in the lightest shade fair £4.19.
I normally use a gel eyeliner pencil with a brush to put on my eyeliner, however I was finding that it wasn't going on as good as it used to. I had tried a felt tip liner before but I never really liked it, it was when they first came out and the colour turned from black to a weird black/green only after a few applications. However I decided to try it again as the tips are so thin it is a lot easier to build up the line rather and make a thin line than I was finding with the gel eyeliner pencil. I decided to get the felt tip liner from Collection as well as Extreme 24h felt top liner in black £2.99. I found that this eyeliner did exactly what it said, I wore it yesterday and it didn't smudge, it stayed on my eyelid and I managed to get a really nice thin line with it (image below).
As there was an offer on with Collection you got a free gift when you spent over £5 which was the Supersize mascara £2.99/free. As I had spent over £5 I got this for free. I did use this yesterday (image above) you can't really see that well I have mascara on but I do. I wasn't really impressed with this product, it was free which was a bonus but I couldn't just use this on its own. I found that it gave really good length but it made my lashes look long and thin, it stuck quite a few of the lashes together. I found that I had to use another mascara brush to separate the lashes but even this didn't turn out very well. The lashes still looked thin but quite long, therefore it is good for length but not very good if you want thick lashes. It does say it creates big lashes, if they mean long then yes it does but the thickness wasn't there which is what I want out of a mascara as well.
Here is a closer image, as you can see the length is there with the lashes but they just look quite thin compared to how they normally look. Also with the liner I can finally do a thinner line!